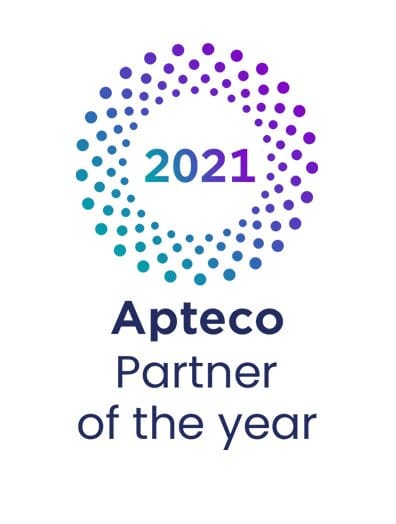 We've done it again! Euler has once again been awarded the title of Apteco Partner of the Year, for 2021. We've worked with many clients throughout 2021 to implement FastStats, PeopleStage, and Orbit, to help them use their customer data to deliver the best return on investment.
"It is great to see Euler win the UK Region Apteco Partner of the Year award for the fourth time. Over the many years we have worked with Euler, we have always enjoyed their contributions, their engagement and the technical challenges that they set us. They are a team with skills across the whole remit of customer and supporter data processing, analysis, insight and multi-channel campaign management.
"When Euler ask us a question, we know it will have real purpose, driven by a customer requirement. We try to learn from those questions to improve Apteco software. Congratulations to Rob, Neil, Paresh, Matt and the whole Euler team for a great effort supporting and growing customers through a year in lockdown." – James Alty, MD, Apteco.
"We are absolutely thrilled to be awarded Apteco Partner of the year again. This is the 4th time in 5 years we've achieved this, made possible thanks to the hard work, dedication and commitment of our team, delivering first-class Apteco solutions, coupled with our data management expertise, so thank you.
We'd like thank Apteco for recognising our efforts and awarding us Partner of The Year, and all of our amazing clients who have entrusted us with their Apteco implementations, we couldn't have done it without you.
"We at Euler would also like to say thank you to our Apteco clients, for allowing us to support them in getting the most out of the Apteco Marketing Suite, delivering value to their business. Roll on 2022 and the new exciting Apteco projects we will be working on!" – Paresh Patel, Consulting Services Director, Euler.
To learn more about the award, take a look at Apteco's press release. Get in touch if you'd like to talk to someone at Euler about Apteco or general data management.
We are thrilled to be accepting the Talend Data Masters Award 2021, category 'data for good', for…
As Apteco's longest-standing partner and proud 'partner of the year', we know a thing or two about…
Our webinar video is now live – 7 Ways to Improve Your Marketing With Data. Paresh, Matt…